Exquisite dish
Ebisu-yaki
Ebisu-yaki is Kyoto-style Okonomiyaki called "Beta-yaki," in which the batter is spread thinly, and cooked after cabbage and other ingredients are piled on top.
The owner could not forget the flavors of the Beta-yaki restaurant he frequented when he was in junior high school, and named the dish after it's name.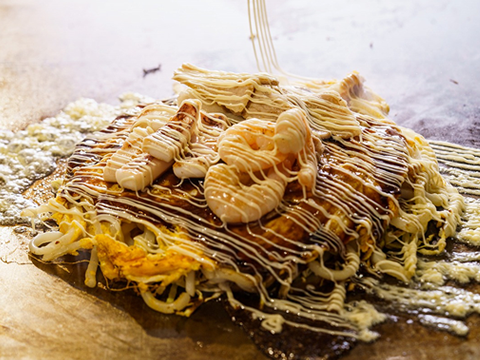 Recommended by the owner! Ebisu-yaki
Beef Tendon + Udon Noodles (topping)
Tender beef tendon stewed in light broth goes perfectly with the sauce.
Add Udon and this dish will fill you up plenty.
If you have never had Ebisu-yaki before, be sure to give it a try.
Our original sauce is the key ingredient Okonomiyaki
The uncompromising flavors of teppanyaki dishes were perfected by the owner who loves okonomiyaki and yakisoba, after trying many savory teppanyaki restaurants.
Our original sauce is not heavy at all, and its light aftertaste is well-liked by many.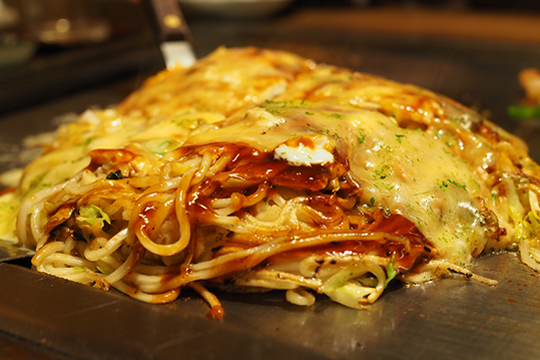 Rice Cake & Cheese
Popular okonomiyaki with sliced rice cake and melty cheese.
Take one bite, and you will be delighted by the combination of the moist texture and the salty flavor of the cheese.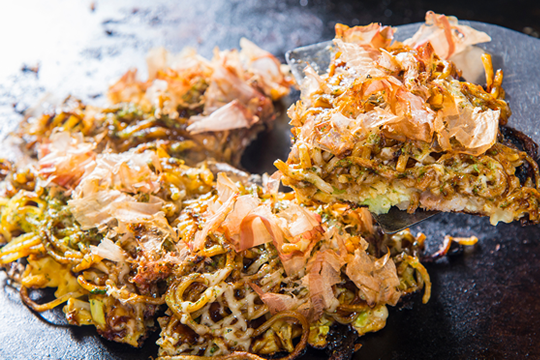 Special Modanyaki
Squid and shrimp okonomiyaki is topped with melty cheese, yakisoba with pork, and a sunny-side up egg.
a heavy meal !